Hiya.
I've been noticing how well organized and in sync everything is here. Like the background goes well with the standards of other Wikis. Like showing the pictures of the characters and books. And everything is perfect. What really bothered me though was the Wiki Logo. I just wanted to option up a new one. Something that goes well with the book logo, and matches. So it just didn't stand out. It was familiar and similar to the Book logo like other Wikis. And I was just fiddling around and trying to make a new one. I just wanted to option it up, just to see if maybe it could perhaps go into use? Here it is.: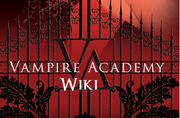 And I was also wondering if my works could be furthered? I'm pretty good with graphic designing things. As you see. It's not your basic crazy softwares, its just paint. But I wanted to also option up my works and talents further more. So instead, if the new wiki logo I created went into use, maybe the rest of the other logos could be changed as well? That way it just wouldn't look so... out-there. So it would just match and blend all together.
Beyond that, I was also wondering if this wiki could use more templates. Like the ones I had added to some of the Character Pages (Rose, Dimitri, Lissa, etc.). They were the Character Quote templates. I think they're nice to use. They also come in handy to any visitors to the Wiki, that had never read the series. It enables them to get a glimpse at the character's personalities. Also considering the fact that I used quotes that represented the character.
How 'bout some Pairing pages? I know I am free to add onto the wiki. But I was not sure if Pairing pages would be tolerated. They don't seem to be created often here, considering that there are none. And by pairing pages, I mean like relationships. Like perhaps... Romitri / Dose (Rose and Dimitri), or Listian / Chrissa (Lissa and Christian) and so on. This is also created mainly for a purpose to inform users about the character's relationships and their pasts and so on.
If I have more to add onto, I'll be sure to inform. But those are my main concerns and thoughts. I was wondering if anyone was on the same page as I am.
~Punxarox! Talk to me! 04:24, April 7, 2012 (UTC)
Community content is available under
CC-BY-SA
unless otherwise noted.